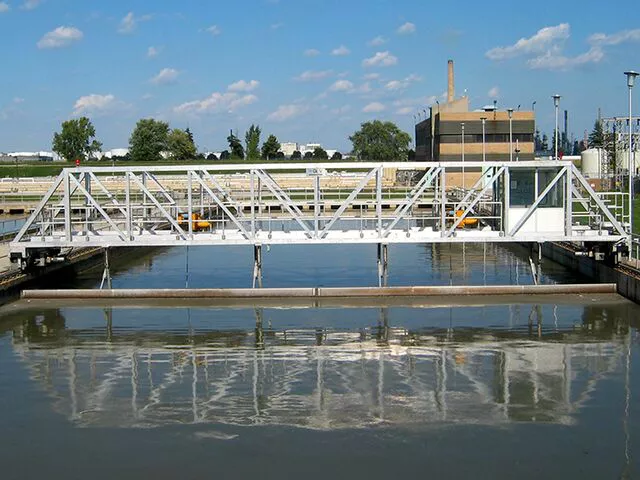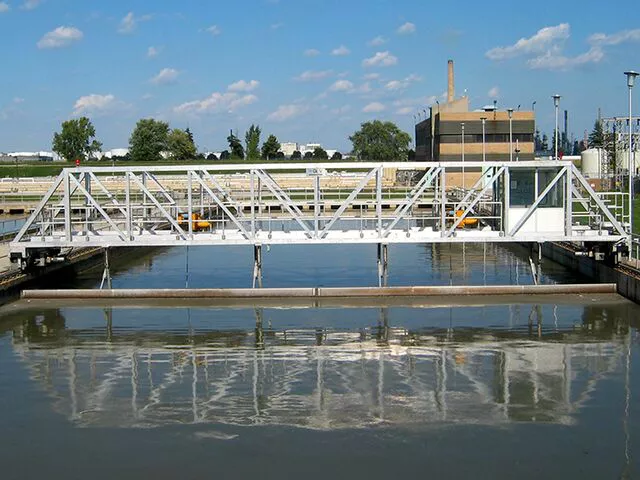 Reducing maintenance and operating costs
Enviroquip® Traveling Bridge Clarifier
Traveling bridge clarifiers perform the same functions as circular clarifiers, but in rectangular basins, which increase your treatment capacity in the same footprint.
Ovivo is capable of creating bridges more than 12 m (40 ft) wide with limited moving parts below the surface needing maintenance, leading to a better lifespan. The tank configuration of the traveling bridge clarifiers allows for more efficient solids handling downstream.
Ovivo's Traveling Bridge designs range from simple beam superstructure to large walk-through trusses and are manufactured with galvanised steel, stainless steel, or aluminium. Hydraulic Drive, electric cog drives or dual-synchronous drive options are also available.  You can request to have your bridge shipped fully assembled.
Additionally, our Traveling Bridge Clarifiers have the following features:
Designed to avoid end truck misalignment, derailing or crabbing issues
Adapts to the basin profile whether sloped stepped or flat
Optional climate-controlled weather enclosure/kiosk for maintenance and monitoring in cold weather environments
Convenient relay controls or SCADA radio-controlled monitoring
Various types of under carriages available to suit different applications and basins designs
Benefits:
30+ year lifespan
Low operating costs
Capable of sludge up to 7%
Increased treatment capacity due to common wall construction
Improved maintenance features for easy upkeep
Ovivo team can lower your cost by retrofitting existing mechanisms, either partial or in total, decreasing the total cost of ownership with the utilisation of existing concrete structures. Bridges are adaptable to existing basin geometry and can replace or rehabilitate all existing types of Traveling Bridge Clarifier mechanisms.
Traveling Bridge Clarifiers perform the same functions as circular clarifiers. Both water and wastewater applications are served by the bridge system, including both primary and secondary clarification.  The traveling bridge clarifier consists of two end trucks which carry the bridge along the length of the Basin. The under carriage mechanism which collects the sludge hangs from the bridge.
Ovivo makes three different types of under carriages for Traveling Bridge Clarifier to suit the various types of basins designs and processes.
The suction type collects sludge from the bottom of the clarifier by suction and delivers it to a sludge trough that runs through the entire length of the basin. This is typically is used in secondary clarifier basins.
The scraper type has a set of rake blades and squeegees suspended from the bridge, which collects settled solids on the tank bottom and scum from the surface of the water. The clarifier pulls the sludge to the sludge hopper at the influent end of the tank.
The teeter-totter style pulls sludge in both directions and deposits the sludge in the sludge hoppers. It is typically used in secondary clarifiers where there are sludge hoppers distributed along the length of the tank.
Clarifiers are available in HDG, 304SS, 316SS for corrosion free equipment.
Clarifier width up to around 30 m (100 ft)
Spray header or neoprene curtain holds floating scum
Fabricated effluent troughs along with weirs and scum baffles can be provided
Precision bearing drive, cast-iron housing, oil lubricated, easily maintained
Bridges can be manufactured in HDG, 304SS, 316SS and aluminium
Undercarriages are available in HDG, 304SS, 316SS for corrosion free equipment
Hydraulic Drive, electric cog drives or dual-synchronous drive options are available
Conductor bar and festoon system type electrification are available
Bridge weather enclosure available for securing control panel
Wireless PLC controls with VFD, HMI and safety control sensors are available