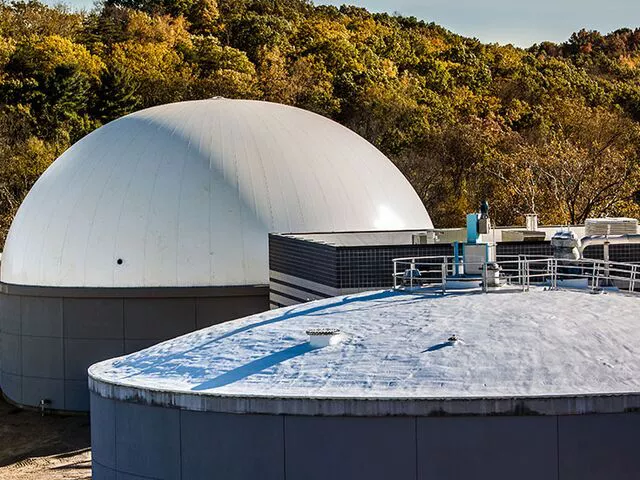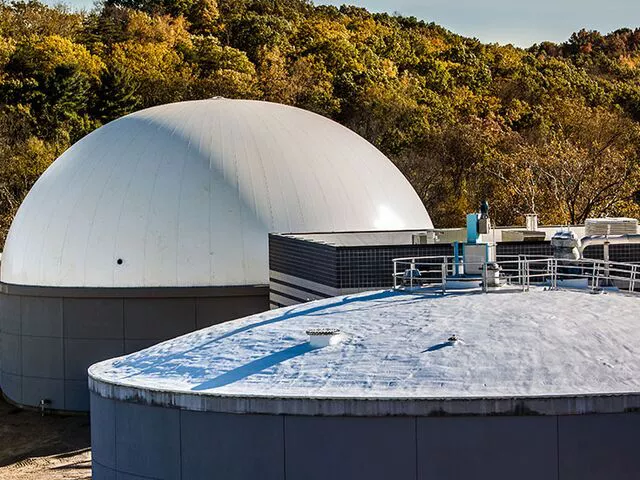 Anaerobic Gas Storage/Tank Covers
Ultrastore™ Membrane Gasholder
Ultrastore membrane gasholders are a key ingredient in the development of waste-to-energy solutions that are becoming a big topic in municipal wastewater plants today.
Every membrane solution supplied by Ovivo is specifically engineered to meet customer needs. Our membrane gasholders are supplied in configurations that no other company or technology can approach.
Numerous wastewater facilities are looking at ways to reduce costs and/or generate revenues. Transforming waste into energy is fast becoming an important focus for many plant superintendents, who are looking to attain net-zero energy consumption for the plant, or in some cases, achieve a positive balance, where surplus gas is converted into power and returned to the grid. Other objectives may include such eco-friendly measures as using the excess gas to power vehicles within the plant or community.
These cost-saving measures require steady and reliable sources of biogas, along with the ability to store large quantities of gas. The Ovivo Ultrastore gasholder membrane is the only effective and efficient solution for transforming waste into energy.
The Ultrastore is simple to set up, operate and monitor, and is custom-designed in both shape and configuration, in order to suit any site requirement.
Plant owners often wonder if membrane gasholders are suitable for their facilities. Ovivo provides all the necessary information needed to determine if gasholders will work for a specific plant, such as site analysis, technical specifications, potential energy usage and output, along with expert field support that can be accessed locally. We focus on solutions and providing owners with peace of mind, knowing that they have selected the right system for their needs.
Key features and benefits of this system include:
Easy maintenance
Custom-designed to fit specific needs
Storage availability indicator
Ovivo Ultrastore membrane gasholders are designed with inner gas and outer air membranes that provide more flexible storage capacities than traditional steel covers. The outer air membrane acts as an air-tight chamber that is kept in constant traction through a system of continuous fans and filters. This continual pressure of air keeps the inner gas membrane at the same working pressure, independent of the biogas quantity being stored. This allows the gas membrane to hold varying volumes of gas, while the outlet flow rate remains constant for steady, stable operations of a waste-to-energy system.
The PVC-coated, polyester-fibre fabric membranes are engineered to resist punctures, wind and weather. The special stainless steel profiles anchor directly into the concrete base, while the flanges keep the membranes fixed to the ground and under pressure along the external perimeter of the gasholder.
Manufacturing
Ovivo Ultrastore gasholder membranes are cut, welded and tested in Little Rock, Arkansas, making Ovivo the only supplier with manufacturing facilities in the United States. This allows for quick turnaround in any situation.
The materials used in the construction of a gasholder membrane are just as critical as the design, which is why Ovivo sources all materials from the most reliable membrane producers in the world. Our suppliers have expertise in the different types of membranes used for gas storage, which is essential when procuring materials that will meet specific design parameters and provide the customer with a durable, long-lasting product.
Installation
Ultrastore membrane gasholders typically take less than one week to install and put into operation. Membranes arrive on site, and are spread out, and then attached to the anchors – all within a few days. Once secured to the concrete base, membranes are inflated and connected to instrumentation provided by Ovivo, which is integrated into the existing plant control system, all within 24 hours. After a quick test of the system, the membranes are ready to operate.
Performance
Once in operation, the storage indicator specifies the amount of stored volume available in the Ultrastore gasholder, which allows the operator to plan all of the operations around the management of the solids handling section within the wastewater treatment plant.